Workshops / Classes Info
&

Descriptions
Class & Workshop Info
WATERCOLOR
An exciting course to encourage and motivate those who have never painted, as well as those who wish to take full advantage of the medium's potential. This class will cover the use of materials, color, composition and perspective, tone and value, wash and resist techniques. Several special effects will be included as well. Subject matter will include landscape, still life, floral, and students' interests. Slide illustrated lectures, demonstrations, tutorial and group critiques will give insight and appreciation for the exciting possibilities of watercolor painting. Students may bring paintings created at home for critique.
SUMI-E BASICS:
The Way of the Brush Series ©Frederica Marshall
This workbook is written for children (ages 10+) and adults to learn the beautiful, mindful, active art of Sumi-e painting.

"I have been fortunate in having many wonderful master painters as my teachers and I continue the tradition. This book shares the joy I feel in creating a flowing brush stroke and the delight in students' eyes as the bird in their mind appears on the paper. I hope you will learn from this book and contact me for future workshops so that we may enjoy painting Sumi-e together." Approximately 60 pages.
-Frederica Marshall
SUMI-E LANDSCAPE PAINTING:
The Way of the Brush Series ©Frederica Marshall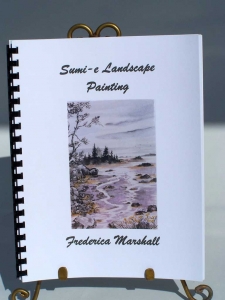 This workbook takes the artist from how to order the elements of a landscape, to texture techniques, sky washes, composition, and chi or energy in a painting.

Basic brush loading and "how tos" for the beginner are included as well as modern crinkle and experimental techniques. This book is a compendium of Frederica's 37 years of teaching sumi-e landscape. Approximately 60 pages.
ADVANCED SUMI-E:
The Way of the Brush Series ©Frederica Marshall
This workbook has covers in color to refer to the techniques inside. Ancient and modern painting methods include suminagashi, tarashikomi, gong bi, watercolor batik, mounting on foam core,wood and canvas.


This is an exciting workbook to explore experimental sumi-e art. Approximately 60 pages.
INTRODUCTION TO SUMI-E ORIENTAL BRUSH PAINTING
This beginning-level workshop introduces you to traditional Oriental brush technique. No previous Sumi-e experience is necessary. "To produce a stream of wind at the tip of the brush" sums up the vitality and vigor of Sumi-e painting. "The Way of the Brush" uses unique materials, consisting of the Four Treasures: ink stick, grinding stone, bamboo brush and rice paper. The basic alphabet of brush strokes, composition, use of negative space, and Oriental perspective and philosophy will be introduced.
MID-LEVEL SUMI-E ORIENTAL BRUSH PAINTING
Advance your knowledge of Sumi-e with more in-depth discussions and demonstrations of this beautiful art form. This one-day class is a continuation of study from Level 1 ( Introduction to Sumi-e Painting is a required prerequisite ).
ADVANCED SUMI-E ORIENTAL BRUSH PAINTING
Advanced techniques and students' interests: i.e., landscape, animals, soft color flowers, calligraphy.
ZEN BRUSH DANCE
Sumi-e ( Oriental Brush Painting ) from the Zen point of view. Learn to focus your Chi and control your breathing and brush strokes. Work with brushes from 12 inches to 5 feet tall. The dance of the big brush is transformed into a calligraphic stroke, recording the dancer's movement.

Image: Frederica Marshall Zen Painting with a big brush - note bigger brush in back! Release your energy in the stream of wind off the big brush and play!