Custom Workshops Info
&

Descriptions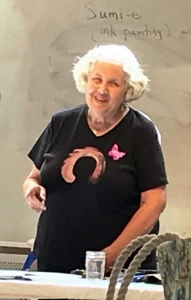 I offer workshops and classes to fit your creative interests and schedule! Create your dreams and ideas!
Workshops and classes are available all year long on a per person or small group basis, dates to be arranged to fit both our schedules. Preregistration (and a deposit for more than one day) is required. You may plan a minimum class of 2 hours, up to 3 (5 hour) days at $50 an hour. This works out to be the same cost as my usual 3 day workshop fee. If you have friends or family you all may paint together for $50 per person per hour. I provide the teaching, the art materials and a comfortable studio to work in (or at your location).
Send workshop deposits to Frederica Marshall, 81 N. Deer Isle Rd., Deer Isle, ME 04627.